AS3 vs. JavaScript Performance Followup (June 2010)
Version 5.0 of Safari was released on just a couple weeks ago on June 8 and Google Chrome was updated just a week before that. More importantly, to this site anyways, is the release of Flash Player 10.1 on June 10. Today's article shows an updated performance comparison to check up on the progress being made in both JavaScript (Safari, Chrome) and AS3 (Flash Player).
Let's look at the performance charts:
All Versions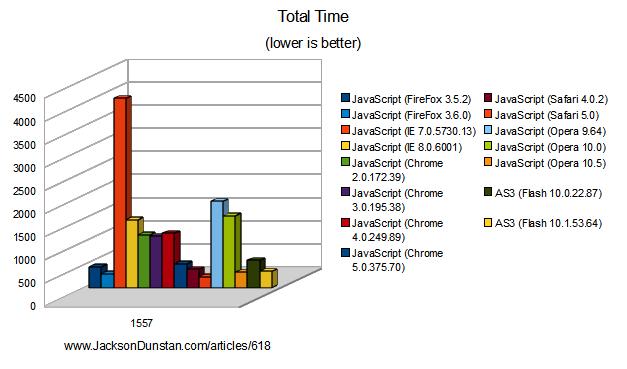 Current Versions
Amazingly, Google Chrome 5.0 is now 2.27x faster than Google Chrome 4.0. Apple Safari 5.0 too makes a big jump and comes in 1.7x faster than its predecessor. So how about AS3 performance in Flash Player 10.1? I'm happy to report that Flash Player 10.1 shows a 1.66x performance increase compared to Flash Player 10.0. While the smallest increase of the three, this is a very welcome speed boost to many AS3 programmers, especially the readers of this site! Here are the new rankings for the current browsers and Flash Player:
Safari 5.0 (fastest)
Firefox 3.6
Opera 10.5
Flash Player 10.1
Chrome 4.5
Internet Explorer 8.0 (slowest)
I'll be covering much more about the speedups in Flash Player 10.1 over the coming weeks and months. Until then, enjoy the raw data as Open Document Format (ODS) or Excel (XLS) format spreadsheet.
Previous AS3 vs. JavaScript Performance tests: March 2010, December 2009, August 2009